Kinesis is hard for people to wrap their heads around. This page hopes to explain what kinesis.money offers in a straightforward way.
The Fifteen Second Summary
Kinesis is an asset-backed digital currency that combines the distributed ledger with physical gold and silver — allocated, insured, audited, and deliverable on demand — and it does so in a way that gives all participants a yield.

Standout Features
The tokens on Kinesis are KAU and KAG. One KAU represents digital ownership of one gram of gold, and each KAG represents one troy ounce of silver. These can be divided into hundred-thousandths, so 1 KAU is represented as 1.00000 KAU.
Kinesis doesn't own any of the metals in their vaults; all gold and silver is owned by the users, tracked on the blockchain, and the company is headquartered in Lichtenstein where the blockchain is legally recognized as a method of tracking ownership. If Kinesis goes bankrupt, we own the metal and the vault owners will need to coordinate with us to distribute the metal Kinesis stored in the vaults on our behalf. This document from 2020 has more details for those who are interested. (Information on Lichtenstein needs to be better documented – I got that from a Youtube interview with Kinesis' CEO, and comments from Kinesis employees on their official Telegram group.)
Kinesis vaults are audited twice each year to insure the quantity of metal on blockchain matches the quantity metal in the vaults. Audit reports are available here.
As users, we can buy bullion at wholesale prices from the Kinesis mint and it will arrive in our Kinesis wallet as KAU or KAG. From there we can transfer it to others, spend it with entities that accept KAU and KAG, transfer it to a debit card and use it wherever VISA is accepted, or take possession of the metal by redeeming it. Redemption can be done in chunks as small as 100 grams of gold or 200 troy ounces of silver, and costs $100 plus shipping and insurance. A member of the Reddit /r/wallstreetsilver community did this with 200ozt silver and ended up with a total cost that was 8.1% over spot — much less than online retailers were charging at the time.
Something you can only do in Kinesis is purchase gold and silver at wholesale prices, have it stored securely at zero cost, and see it actually produce a yield. The longer you store it, the more it grows.
Everyone who participates in Kinesis (and complies with Know Your Customer rules) gets a yield. See the next section – this is the most exciting part of Kinesis, and it's also the most confusing.
The Kinesis blockchain was forked from the Stellar blockchain. In part, this was chosen because testing showed that this blockchain would allow Kinesis to handle twice the average global transaction volume that VISA processed in 2018. Kinesis was designed from the beginning as a global currency backed by gold and silver. Transactions of KAU and KAG generally are completed within 3-5 seconds; transactions that involve other cryptocurrencies take a bit longer.
Kinesis is working to build public-private partnerships to provide banking services to the world's under-banked or unbanked population. The first of these is with Indonesia — this has been plagued by delays by governmental decision-makers, but the first component of the Indonesian integration went live in mid-August 2022, with the remainder to be brought online by October 2022 (PosGo, for person-to-person payments and payment for government services in September, and tie-ins with religious organizations in October). All of these services feed Kinesis yields.
A brief note on yields
Kinesis is different, and it's hard to get your head wrapped around it (hence, this site.) Traditionally, in all of finance, for all of financial history, in order to get a return you had to take a risk. The greater the risk, the greater the reward. If you want zero risk, then you pay storage fees.
Kinesis yields are different, and are only possible because of the blockchain. Every transfer from one wallet to another (or on the exchange, or to a debit card, etc.) has an associated fee -either 0.22% or 0.45%. That fee is assessed by the blockchain and set aside, and then the following month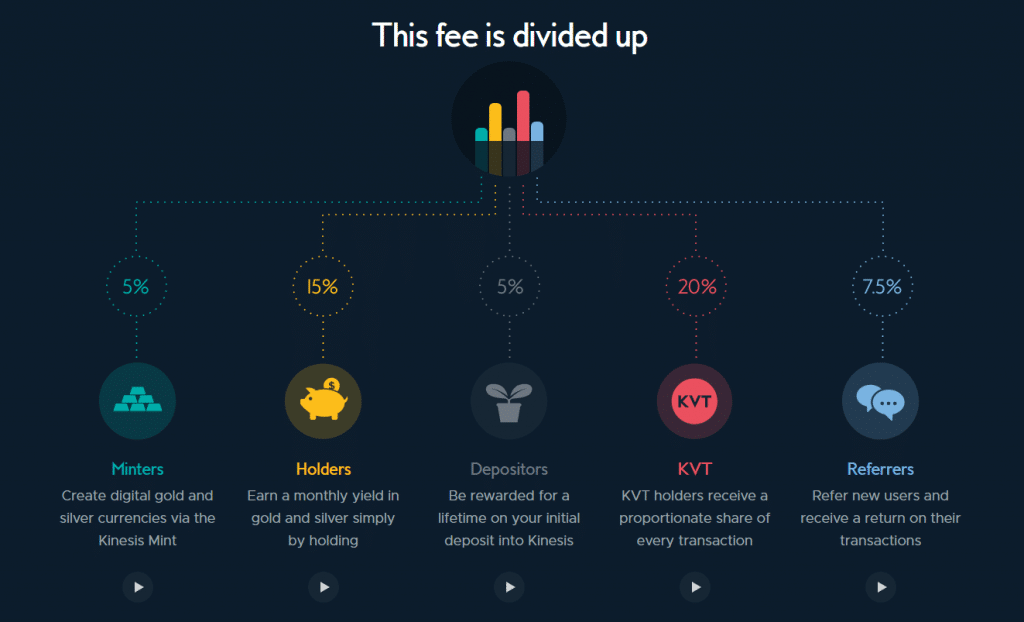 So 5% of the fees collected are distributed to the accounts that minted money, proportionally (If you minted 1% of the coins in the system, you get 1% of the minter's yield). Minters get a yield, holders get a yield, referrers get 7.5% of the total fees paid by the people they refer, KVT has a separate page, etc. Not documented here is the Velocity Yield which is paid out to those who transacted with the debit card or bought/sold on the exchange; this replaced the depositor's yield to give more of a "cash back" function to Kinesis transactions.
Overall, 57.5% of the yields go to users of the system. Kinesis takes 17.5% of the yield to pay for servers and vaulting and insurance and staff and all that. Large partners (eg PT-POS, the post office in Indonesia) qualify for a 20% yield as well based on the transaction fees that their customer base generates. This is innovative and different and it might take a while to understand it intuitively. Here's a PDF that explains it better than I just did.
The important part here is this: the more people transact (that is, the higher the velocity of money) the greater the yields that everyone will see. How much yield will a holder receive on their assets, as a percentage of their value? That totally depends on the velocity. And that's the trick: Kinesis found a way to motivate people to use gold and silver as a medium of exchange, rather than just as a store of value, which is why it's kinesis.money. If you buy and spend with it, you qualify for yields (minter's yield if you minted, holder's yield for the time KAU and KAG were in your account, velocity yield for spenders). We all get a yield of some sort or another. So don't just put your portfolio's metal allocation in it – deposit your spending money as well – protect yourself from inflation and earn a yield. Mint and earn a perpetual yield.
It's kind of ingenious.
Why Use Kinesis?
Bullion Buyers
Not only does Kinesis not charge you a fee to safely store your metal, they offer a yield on the metal you store in their vaults. KAU earns a yield in grams of gold (additional KAU), and KAG earns a yield denominated in ounces of silver (KAG). It might make sense to think of this as something similar to a traditional savings account, denominated in gold or silver, with a yield payable in the same metal.
Stackers
You can buy silver and gold at competitive rates on the Kinesis Exchange, but you can also mint KAU and KAG at the Kinesis Mint, buying it at wholesale prices. Once you "mint" bars of physical metal into KAU or KAG you earn the same Holder's Yield shown above, but you are also eligible for the Minter's Yield should your choose to spend or transfer it:
Unlike metal you buy and hold at home, with Kinesis you can:
Store the metal securely in an audited and insured vault.
Redeem the metal from Kinesis and have them ship it directly to you, wherever you like, whenever you like. Just note than if you redeem your metal it is removed from the blockchain and you will no longer receive your minter's yield from it.
Transfer it directly to another Kinesis user in any fraction. People imagine bartering with gold and silver, but with Kinesis there is no need to round a purchase to the nearest Mercury Dime – you can transfer 12.23756 KAG (or any other fractional amount) to another user within seconds, anywhere in the world. This does cost 0.45% of the transferred amount as a fee, however, which goes back into the master fee pool to be distributed as yields. This means a $100 purchase incurs an additional $0.45 in fees; a $10,000 purchase costs $45. (For clarity, these fees are taken in KAU and KAG rather than the dollar equivalent.) When evaluating the fairness of this fee, consider that you purchased your KAU or KAG at or near spot, not paying the premium you pay to buy precious metals at retail. All things considered, this is a bargain.
Fill your debit card and spend your KAU or KAG wherever VISA is accepted. It costs 0.22% to spend on the card, but it's a lot easier to purchase from Wal-Mart, McDonald's, or Amazon using Kinesis KAU than it is to make the same purchase with Krugerrands. Physical cards will be re-introduced later this year.
Receive velocity yield each time you spend with Kinesis:
Savers
You can transfer US Dollars to your Kinesis account, then convert your Dollars to digital Gold or Silver, and spend as you like on your Debit card, or transfer it back to your traditional bank account as you require.
This allows you to act as your own central bank — storing your wealth in precious metals instead of fiat currency. If you choose to mint KAU or KAG you will be entitled to the Minter's Yield once it's spent, and the Holder's yield as long as you're holding on to it. If you are simply converting Dollars/Euros/Pounds to KAU or KAG on the exchange you will still be generating a Holder's Yield as long as you're holding it in your account, and the purchase/sale of Kinesis coins will qualify for Velocity Yield.
In these inflationary times many will find comfort in the fact that their money is stored in gold and silver, rather than fiat.
Cryptocurrency Holders looking to lock in Gains
Cryptocurrencies are volatile, and you may eventually look to lock in your gains by transferring your _______coin to a stable-coin to secure your gains. You might be concerned that Tether isn't as stable as you'd like, but what's more stable than precious metals?
You can create a Kinesis account and transfer digital assets into the Kinesis Monetary System and convert them to KAU or KAG on the Exchange. Your online Kinesis account is secured with 2 factor authentication, but for additional security you can use a hardware wallet. Note that right now the only hardware wallet that supports KAU and KAG is the Coolwallet S, and transfers of KVT to your hardware wallet will cost 0.005 ETH as a gas fee. Please see the Getting Started page for details on the hardware wallet.